Find out more about Saint Pierre School, providing inspirational education for boys and girls from 2 ½ to 11 years of age.  It recognises that true education is more about being driven and content than it is about dramatic facilities.  The inspiration is provided by a small family atmosphere where expectations in academics, values, behaviour and manners are high.   Our pupils leave extremely well prepared for their secondary school with most, but not all, graduating to local grammar schools.   
As a private school with traditional values and affordable fees we aim to make individualised education accessible to as many people as possible. As a parent, you want to find out more about choosing a school for your child. After all it is one of the most significant decisions you have to make. A prospectus can help provide an initial insight, but there is no substitute for visiting and getting a real feel for this unique school.
Don't just take our word for it, read what other people are saying here.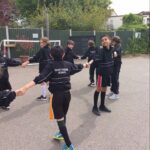 If you would like to find out more or would like to book a visit, please contact us and we will be more than happy to help.
Open Week 13th - 17th June
Book your personal Tour Today!